Horse Products Information
All the below products are available to purchase online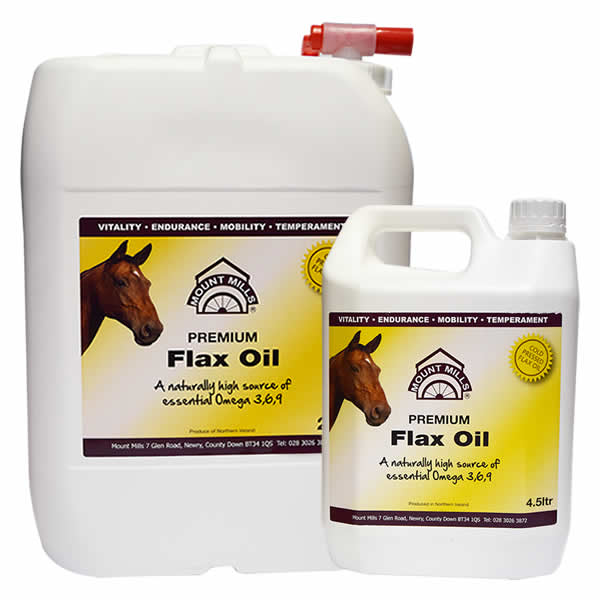 Mount Mills Premium Flax Oil For Horses
Flax Oil is The Most Essential Feed for your Horse.
Horses cannot naturally produce essential fatty acids (OMEGA Oils) and so these must be added as a supplement to your horse's feed.
Mount Mills Cold Pressed Flax Oil is the ideal way to do this. See below on how your horse can benefit from Mount Mills Cold Pressed Flax Oil.
The Benefits For Your Horse
Breeding
Can help with breeding for broodmares and for stallions
Skin Condition
Can enhances skin condition and help fight sweet itch
High Performance Horses
Can aid high performance horses through muscle recovery, reduced inflammation, reducing lactic acid and increasing stamina
Immunity
Can add to your horse's immune system. Omega-3 has been shown to reduce equine endotoxemia which inhibits the occurrence of Colic, Laminitis and Organ Failure
Sperm Count In Stallions
Studies in Colorado University have shown that breeding stallions who were supplemented with long chain Fatty Acid DHA have shown increased sperm concentration.
Omega-3 can improve skin and coat condition
Omega-3 may Improve hoof condition
Omega-3 has been shown to Increase sperm count in stallions
Omega-3 can be beneficial to the immune system
Omega-3 may reduce lactic acid build up in muscle tissue.
Omega-3 is a natural anti-inflammatory
Analytical Constituents
100% Pure Cold Pressed Flax Seed Oil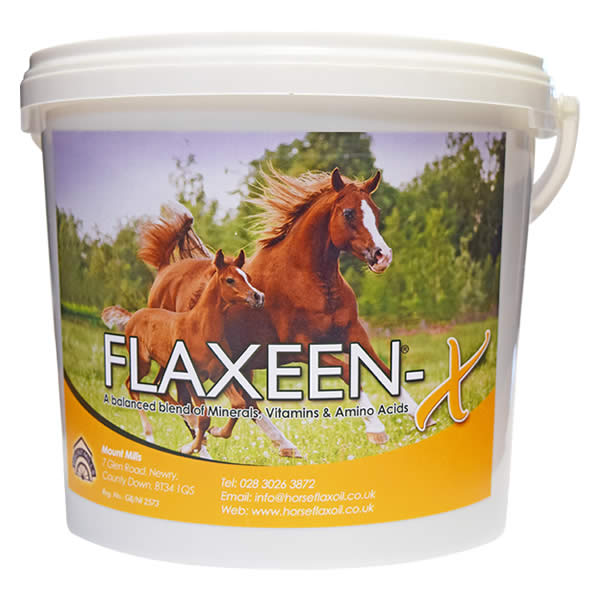 Mount Mills Flaxeen-X
A Balanced Blend Of Natural Minerals, Vitamins & Amino Acids

A supplementary powder based feed additive specially formulated with added Minerals, Vitamins and Amino Acids
This Product Is Safe For Use With Mares In Foal
The Benefits For Your Horse
Flaxeen-X
Helps improve the microbiome in the equine intestinal system which can lead to:
Improvement of fibre digestibility
Better utilisation of the diet
Ideal for Mares and young stock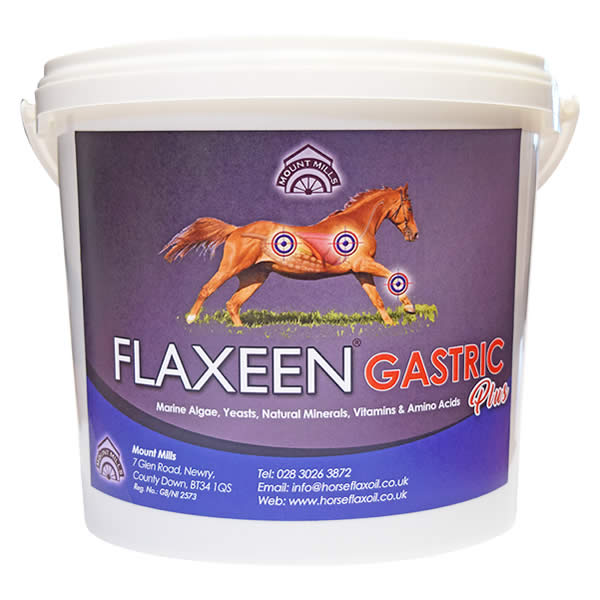 Mount Mills Flaxeen Gastric Plus
A Balanced Blend Of Marine Algae, Yeasts, Natural Minerals, Vitamins & Amino Acids

A supplementary pellet based feed additive specially formulated with added Marine Algae, Yeasts, Minerals, Vitamins and Amino Acids
Dust Free – Ideal for performance horses
Not Suitable For Mares In Foal
The Benefits For Your Horse
Flaxeen Gastric has been formulated to help improve the microbiome in the equine intestinal system which can lead to:
Reduction in lactic acid production& stabilisation of caecal and faecal pH
Improved fibre digestion
Improved utilisation of the diet
NOT SUITABLE FOR MARES IN FOAL
Contact Mount Mills Flax Oil
<iframe src="https://www.google.com/maps/d/u/0/embed?mid=1u4yVNAP6BAzRBI8jM2aUivujAzm_1koK&z=8" width="640" height="480"></iframe>
Mount Mills Flax Oil 7 Glen Road, Newry, County Down, Northern Ireland BT34 1QS Tel. 0044 (0)28 3026 3872